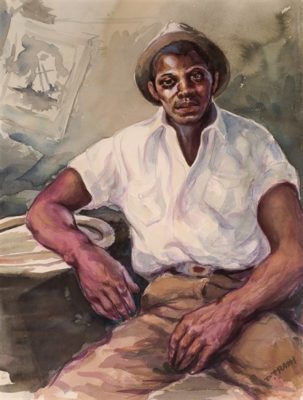 Founded in 2006, The Petrucci Family Foundation (PFF) actively responds to the needs of the communities it serves. The PFF mission is to support education and create opportunities for Americans at every stage and station of life.
The PFF Collection of African American Art is a targeted initiative to bring focus to the full range of African-American visual creativity and its essential place in the history and discourse of American art.
An understanding of African-American art history is vital to a full understanding of American art history. The PFF collection offers continuing proof that African American art is integral to the rich tapestry of American creative tradition. Long overlooked, art of this caliber with its specific cultural voice is both essential and enlightening.
Further, PFF's mission of fostering a more complete understanding of African American art holds great promise for cross-cultural understanding and reconciliation, in this case, through a specific lens of the American experience.
As part of a growing and more thoughtful dialogue about the African American experience through art, the PFF Collection seeks to visually represent a cross-section of themes that speak not only to the African American community but also to the broader American community. It is our fervent desire that the Collection proves to be much more than an assemblage of art. We rely on those of you who experience it to affirm our Mission.