1911-1959
Works in the Collection
Herd of Cattle
C.1940
Bird Shadows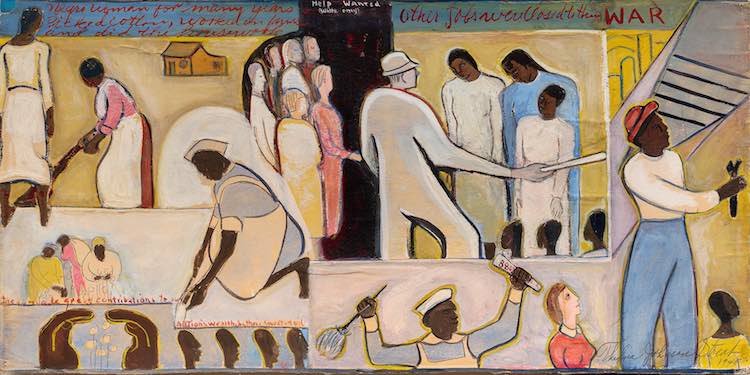 The Negro in Professional Life (Mural Study Featuring Women in the Workplace)
1945
Biography
Thelma Johnson Streat was born in 1912 in Yakima, Washington and grew up in Portland, Oregon. She began painting at the age of seven and studied art at the Museum Art School in the 1930s. In 1938, Streat moved to San Francisco to work in a WPA art program, and in 1942, her painting Rabbit Man was purchased by the MOMA. Streat also worked in mural format and completed a number of murals about African Americans in American history. She also happened to be a talented singer and dancer and sometimes presented dance accompaniments to her completed murals.
In 1945, Streat relocated to Chicago to chair a committee dedicated to sponsoring murals. She also spent time in the Queen Charlotte Islands, gathering inspiration for her art and dance. Streat married her manager, playwright and play and film producer Edgar Kline in 1948 and the two lived and traveled frequently abroad. They shared a strong interest in education and tolerance and established Children's City projects in Canada and Hawaii, where they settled in 1952.
Thelma Streat died in 1959. In 2003, the Portland Art Museum presented a one-person show of her work. Her work has been included in the collections of the Museum of Modern Art, Mills College in Oakland, California, the San Francisco Museum of Art, and the Honolulu Academy of the Arts. In 2016, Streat's mural, Medicine and Transportation, was included in the Smithsonian National Museum of African American History and Culture's permanent collection.