In 2015, Dahanah Sejour was recognized for her outstanding academic achievements through PFF's Irvington Top 12 Program. We are excited to catch up with her and spotlight her achievements since graduating.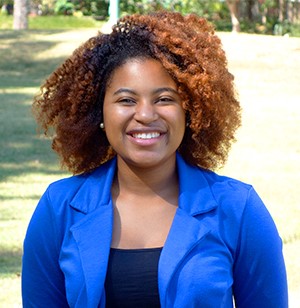 After graduating from Irvington High School, Dahanah attended the College of William & Mary where she received her BS in Psychology and Kinesiology & Health Sciences. During her time at William and Mary, Dahanah did a study-abroad program called 'Semester Sea' where she traveled to 12 countries and 5 continents. She furthered her education by receiving her Masters in Public Health from the Department of Behavioral Sciences & Health Education at Emory University.
Dahanah has a wealth of research, evaluation, data management, and statistical analysis experience from interning with organizations such as the Centers for Disease Control and Prevention (CDC), Kaiser Permanente, and local non-profits.
During her time at RSPH, she was involved in several research and evaluation projects and was nominated for the Sheppard Award for Outstanding Thesis. For her thesis, she examined the prevalence of pregnancy-related complications among pregnant women with congenital heart defects using Medicaid data from 1999-2013. For the past 3 years, Dahanah has worked as a data scientist at Booz Allen Hamilton. During her tenure at Booz Allen, she has supported several clients such as the Department of Defense, Centers for Medicare and Medicaid, and Department of Homeland Security.