Berrisford Boothe – Principal Curator (2012–Present)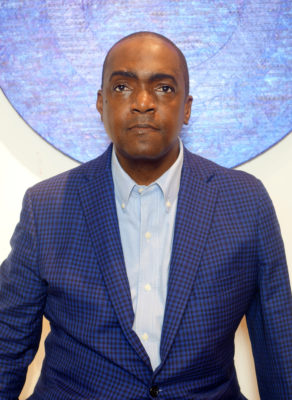 Berrisford Boothe is an Acting Department Chair of Art, Architecture, and Design at Lehigh University where he teaches beginning and advanced studio practice in drawing, painting and design. Boothe, born in Kingston, Jamaica is a multiple-media artist who has been a visible and well-established presence in the Eastern U.S. art scene for over 20 years. He has carefully crafted a career as a painter, digital artist, printmaker, photographer, installation artist, lecturer, and curator.
Boothe has served on the Pennsylvania Council of the Arts and his work is part of collections public and private nationwide and in South America. Berrisford's career has been presented in Halima Taha's Collecting African American Art. He was one of 100 artists nationwide featured in Robert Wuthnow's book Creative Spirituality: The Way of the Artist. He was in the 2008 seminal exhibition: In Search of the Missing Masters: The Lewis Tanner Moore Collection of African American Art at The Woodmere Art Museum in Philadelphia, PA. His work has been featured in exhibitions at The Allentown Art Museum, The Fabric Workshop and Museum, Philadelphia, PA, The African American Museum, Philadelphia, PA and The William Benton Museum of Art. Professor Boothe has initiated and taught courses on African-American art and aesthetics from pre-colonial Africa to Contemporary America as part of Lehigh's Africana Studies program.
In 2004–2005 while on sabbatical in Cambridge, England, he was a member of St. Barnabas Print studios. There, he produced new work with director James Hill and exhibited as a painter, photographer, and printmaker. In Cambridge, he also collaborated with master printmaker Kip Gresham at Gresham's renowned Print Studio. The editioned prints completed there became part of collections at The Fitzwilliam Museum and The Kasser Foundation of Montclair, N.J. In addition, he was artist-in-residence at The London Print Studio where he continues a collaborative project with director John Philips.
Consultants
Lewis Tanner Moore
Curlee Raven Holton
Leslie King-Hammond